Func Industries Product Line: sUrface1030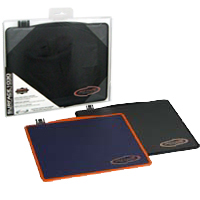 ABOUT THE PRODUCT:
The patent pending double sided surface of the fUnc sUrface1030 provides precision and accuracy appropriate for people who work and play hard. Using only the highest quality components, fUnc has designed the sUrface1030 mousing solution to be the last mouse "pad" you ever need to buy.
Patent-pending design provides increased control and accuracy in all applications!
Double-sided sUrface each side with unique traction qualities
Mouse cord clip allows free and unhindered movement while mousing
Large mousing sUrface of 10"x8.5" and is less than 1/8" high
Works great with optical and ball mice!
BUY IT NOW!
sUrface1030
Blue Surface Sheet w/ Orange Base

sUrface1030
Black Surface Sheet w/ Black Base

---

OTHER FUNC INDUSTRIES PRODUCTS: